Alternative Blues-Based Classic Rock
Comstock Station is a Three Piece Power Rock & Roll Band and lifelong musicians from the Hartford, CT area. The band delivers a powerful brand of high-energy, raw, guitar-driven, Alternative Blues-Based Classic Rock, originals, and cover songs with their own unique twist.
Here's where it all began. Troy & Will are lifelong friends and have known each other since the age of 5. They grew up listening to all types of music, mainly Classic Rock bands like AC/DC, Black Sabbath, Rush, UFO, Deep Purple, and the heavy-blues dynamics of early Zeppelin, Hendrix and Cream. They played together, even creating songs during their teens, then life took them in other directions. Years later, they've come full circle, reunited, and have expanded upon their Rock/Blues roots. Growing up less than a mile away from each other, they share a "common bond" with the same musical DNA. Drummer Greg Aiello came into the band at just the right time, and it was instant musical chemistry. That sealed the deal as the band Comstock Station!
"Leave your Ego"
"Play The Music"
"Love The People"
Fan Quotes
"Awesome Band. One of the best guitar players I have heard in all the events that I've been to. Troy really shredded up the stage with some great Blues Rock, Rock and even Ballads, putting his own spin on each tune. It was great just to listen to the band."
"Outstanding group. Mind blowing energy!"
"Power Rockers that give you the 70's concert vibe."
"Great band, great guitar riffs! My kind of music!"
"Best band I've heard with Rock it Out. They played Hendrix, The Doors, Led Zeppelin, Black Sabbath. The guitarist was very good."
"They ROCK!!"
"I played a couple of the videos for a guy at work and he was blown away too! He is a musician and could not believe how good your band sounds and that only 3 guys could generate a sound like that!"
"This band is ahh-sume & they play alot of different songs."
"Ain't no KOL defection here – even pigeons ROCK OUT to these dudes!"
"Great power trio, good dynamics, good originals, tight band – lot's of fun!!"
"If you guys came out in the 60's / early 70's, I think you would have been on every radio station out there."
"These guys are the Ultimate Hard Blues/Rock Bar Band!"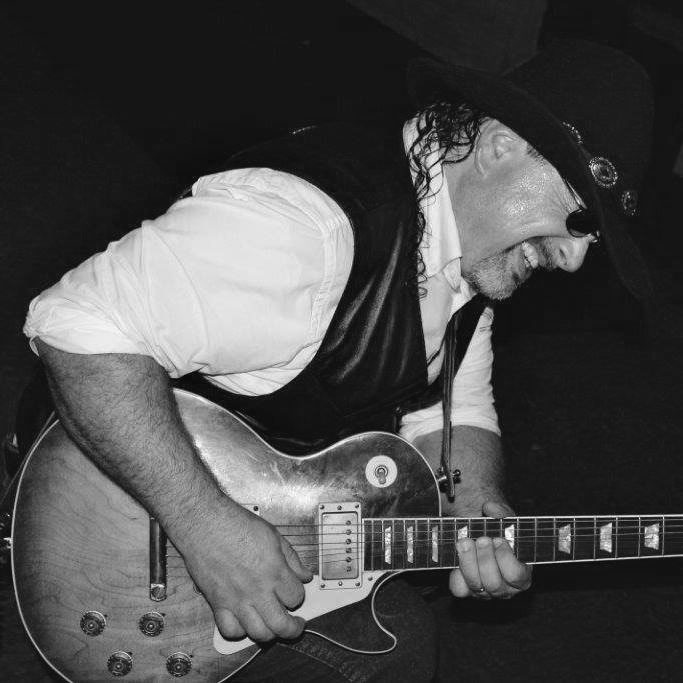 Guitar & Lead Vocals
I have been playing in bands for over 30 years as a guitarist, vocalist, composer, and songwriter. Most of my years were spent playing Hard Rock, some Metal, Classic/Southern Rock, Blues, Blues/Rock, though I enjoy a broad range of music. I formed the Troy T. Blues Band back in 2000 which lasted on and off until 2014. In 2015, I reunited with my lifelong friend Will who was already on board playing bass, we decided to incorporate more Rock, retooled and formed Comstock Station. I am a self-taught player, not a virtuoso or technical by any means. I think my greatest assets are passion, emotion and what I play comes straight from the heart. I have a very melodic, bluesy, yet raw and aggressive playing style. Playing live completely fuels my inner fire. Like most guitarists, I have quite a few influences, but for the most part, my #1 musical mentor is Jimmy Page, then players like Hendrix, SRV, Billy Gibbons, Tony Iommi, Carlos Santana, Michael Schenker, Jeff Healey, Allman Bros, many classic Blues players, and certainly a blend of all wrapped up into one. The Blues will always be a big part of my soul. My amps of choice are 60's Fender Super Reverbs and at times a '73 Fender Vibrolux Reverb. You'll mostly see me playing Gibson Les Paul guitars.
My first guitar was a JC Penney that my dad bought for me at a tag sale. The strings were like an inch off the fretboard! I learned how to play guitar chords at acoustic guitar class in Middle School. That helped me big time. At home, I was able to match the notes to the songs that I heard on recordings and things started to make some sense after a while. I would lock myself in my bedroom all day until I was stronger & improved. I just sort of went from there. I was a Zeppelin fanatic at the age of 12. In fact, I listened very closely to their live music and was knocked out on how different the songs were from the studio cuts. That's how I learned the power of improvising, achieving chemistry with other musicians, etc….so, in my opinion, I learned that from the very best. That is probably why I have such a high standard when it comes to the band or what I play on the guitar.
I believe that this describes me to a T and it's so well quoted by the late great Frank Zappa:
"What I do on the guitar has very little to do with what other people do on the guitar. Most of the other guitar solos that you hear performed on stage have been practiced over and over and over again, and they go out there and they play the same one every night, and it's just… spotless. My theory is this: I have a basic mechanical knowledge of operation of the instrument, and I have an imagination. And when the time comes up in the song to play a solo, it's me against the laws of nature. I don't know what I'm gonna play, I don't know what I'm gonna do. I know roughly how long I have to do it and it's a game where you have a piece of time and you get to decorate it. And depending on how intuitive the rhythm section is that's backing you up, you can do things that are literally impossible to imagine sitting here."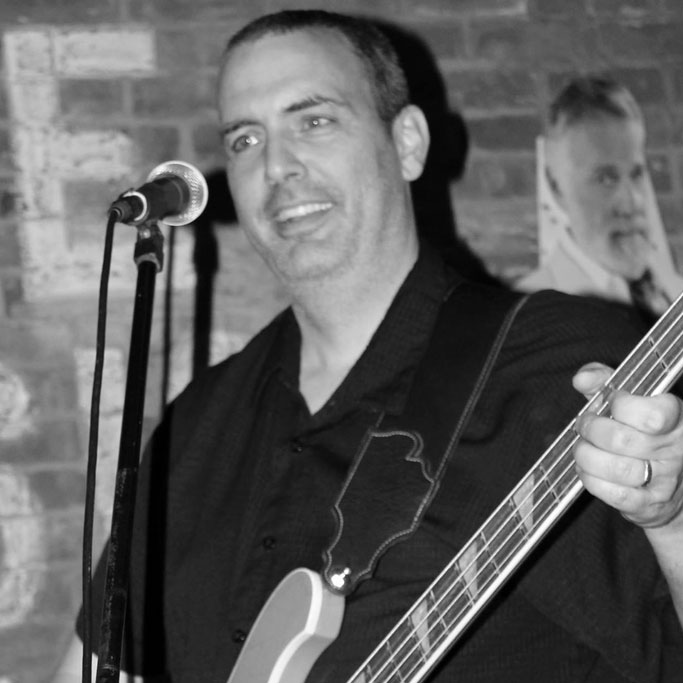 Bass Guitar
I don't remember a time when I wasn't playing, listening, and loving music. I had just about every album ever made and went to every concert that came to town and dabbled in every instrument I could get my hands on. It was all consuming for me. When we were in school I was starting to learn guitar and Troy suggested bass would be a better fit because good bass players were impossible to find. We started our first band together that afternoon.
Fast forward a bunch of years – past some rock bands, speed metal bands, jam bands, marriage, 3 kids, house, dog, and "real" job – and here we are. We are back playing the music we love on our own terms. We hope you enjoy it as much as we do.
My gear is all about that heavy rumble you get from the 60s and 70s power trios – and that starts with the monsterous all tube Ampeg SVT Classic.  My guitars come from very different eras, but the 1988 Rickenbacker 4003 and 2016 Ibanez SR505 5-string both bring  thunderous power I crave in our music.
It's good to be home again.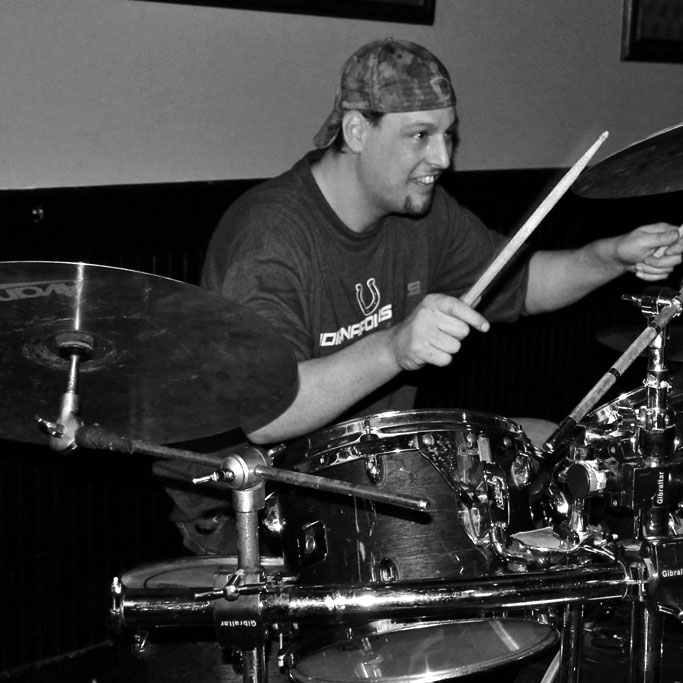 Drums
I started playing drums at the age of 7 years old. My first drum kit was a 1966 4 piece Ludwig in marble gray. From the age of 7, I was mostly self taught until I started taking lessons at the age of 10. I continued studying and practicing for years until I went to school in 1992 for 2 years, and studied jazz drumming. I formed my first band, Lost Dog in 1994. I then played with such bands as; Far From the Tree, The Smokes, Krucial Time, Pistol Whip, and Spirit Shaker. I've been currently with Comstock Station since 2015. My musical influences include Led Zeppelin, Hendrix, ZZ Top, Deep Purple, Allman Brothers, Dave Weckl, Tower of Power, Black Sabbath, and many more. My current kit is an 8 piece 2005 Gretsch Catalina Birch drum set.